Experience Unparalleled Surveillance Power with HIKVISION DS-9632NI-M16/R 32-ch 2U 8K NVR
Experience Unparalleled Surveillance Power with HIKVISION DS-9632NI-M16/R 32-ch 2U 8K NVR.In today's fast-paced world, security is of utmost importance. HIKVISION, a renowned leader in security solutions, introduces the groundbreaking DS-9632NI-M16/R 32-ch 2U 8K NVR, revolutionizing the way we perceive and implement video surveillance. With its advanced features and seamless integration, this NVR empowers businesses to elevate their surveillance capabilities to unprecedented heights.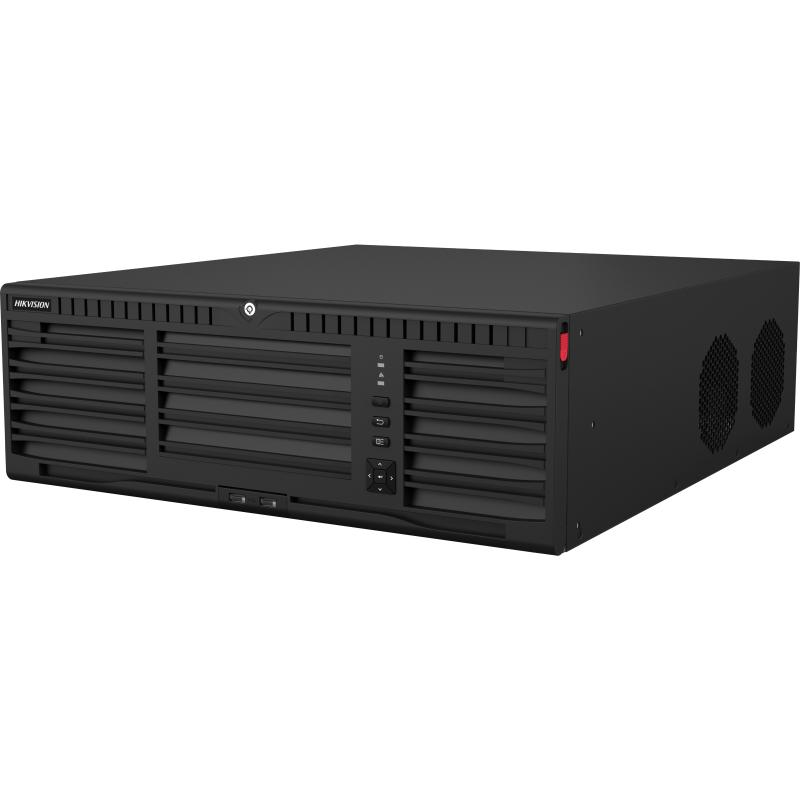 Seamless Integration of IP Cameras
The HIKVISION DS-9632NI-M16/R NVR sets a new standard by accommodating up to 32 IP camera inputs, ensuring comprehensive coverage of your premises. Whether it's a single location or a multi-site setup, this NVR seamlessly integrates with a wide range of IP cameras, offering unparalleled flexibility and scalability for your security needs.
Unlock the Power of High-Quality Decoding
Prepare to be immersed in high-quality video feeds with the DS-9632NI-M16/R NVR. Boasting the capacity for up to 2 channels of 32 MP or 24 MP, 4 channels of 12 MP, 8 channels of 8 MP, 16 channels of 4 MP, or 32 channels of 1080p decoding, this NVR ensures that every detail is captured with remarkable precision and clarity.
High-Speed Bandwidth for Uninterrupted Surveillance
Say goodbye to interruptions and connectivity issues with the DS-9632NI-M16/R NVR. With up to 320 Mbps incoming bandwidth and 400 Mbps outgoing bandwidth, this NVR ensures smooth communication between cameras and the NVR, enabling real-time monitoring and swift response to potential threats.
Immersive Video Outputs for Enhanced Surveillance
The DS-9632NI-M16/R NVR goes beyond expectations with its two HDMI interfaces (different source) and two VGA interfaces. Supporting 8K or dual 4K video outputs, this NVR delivers stunning visuals, allowing for detailed analysis of surveillance footage. Stay in control and make informed decisions with exceptional video quality at your disposal.
Specialized Cameras for Targeted Surveillance Solutions
This NVR seamlessly integrates with specialized cameras, including people counting cameras, ANPR (automatic number plate recognition) cameras, and fisheye cameras. These specialized cameras provide tailored functionalities to meet specific surveillance needs, enabling you to customize your security system for optimal performance.
Unmatched Performance in Any Network Condition
With advanced streaming technology, the DS-9632NI-M16/R NVR ensures a smooth live view even in challenging network conditions. Stay connected and maintain real-time situational awareness, irrespective of network congestion or limitations. Rest assured that your surveillance operations continue seamlessly, enhancing the overall security of your premises.
Reliable Data Storage and Data Loss Prevention
Data security is a top priority in the surveillance landscape, and the DS-9632NI-M16/R NVR offers robust solutions. Supporting RAID 0, 1, 5, 6, 10, and N+M hot spare configurations, this NVR provides reliable data storage and redundancy options. Safeguard your valuable footage and prevent data loss risks effectively, ensuring continuous operation and peace of mind.
HIKD: Your Trusted Partner in HIKVISION Solutions
Collaboration is key to delivering cutting-edge security solutions, and HIKD is HIKVISION's trusted partner and distributor. With their commitment to innovation and customer satisfaction, HIKD plays a crucial role in ensuring that businesses have access to top-tier security products. Benefit from HIKD's extensive range of HIKVISION solutions and their unwavering support, enabling you to harness the full potential of HIKVISION technology.
Experience the Future of Surveillance with HIKVISION DS-9632NI-M16/R
The DS-9632NI-M16/R 32-ch 2U 8K NVR represents the pinnacle of surveillance technology. Its seamless integration, high-performance decoding, immersive video outputs, compatibility with specialized cameras, and partnership with HIKD position it as the ultimate choice for businesses seeking unparalleled security solutions.
Embrace the power of HIKVISION's DS-9632NI-M16/R NVR and elevate your surveillance capabilities to new heights. To explore the extensive range of HIKVISION solutions and discover how HIKD can support your security needs, visit their website at [insert website link] or contact their dedicated sales team at sales@hikdistribution.com. Trust in HIKD's partnership with HIKVISION to deliver cutting-edge technology and exceptional support, ensuring your surveillance infrastructure remains at the forefront of security innovation.
About Author